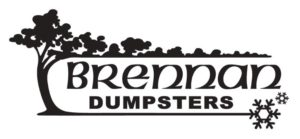 Dumpster Sizes Available
15yd 14′ x 48″ x 96″
12yd 14′ x 40″x 96″
10yd 12′ x 40″ x 96″
What is not allowed!
Tires of any kind ***
Computers/Television/Electronics ***
Propane Tanks ***
Car, truck or commercial batteries
Refrigerators, air conditioners, dehumidifiers, etc. ***
White goods(washer, dryer, etc) ***
Hot Water Heaters ***
Yard Waste
Asbestos or material containing Asbestos
Any type of Hazardous Waste
Paint, Oils & Liquids( Paint in containers must be in solid form)
Beams over 8'(Must be cut down to 8' or less)
Pesticides/Fertilizer
Concrete, asphalt, soil
***Please ask pricing on these products to remove
If any of the listed items are found in a container there will be an additional charge per item to the customer! Any Hazardous or Asbestos Material found in the container you will be held responsible for all fines and costs involved incurred to Brennan Landscaping Inc.
What is allowed!
Construction/Demolition Debris
Household Garbage(Toys, furniture, etc.)