**Loading available during storms**
Ice B Gone Magic Bulk Treated Salt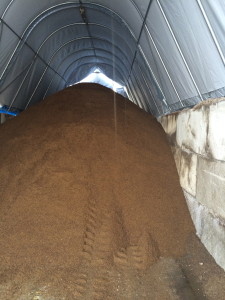 Ice B' Gone Magic Treated Salt is a highly effective ice melting product starts out as ordinary rock salt and is then treated with a liquid, agricultural by-product of the distilling process blended with magnesium chloride. This patented (DCS)liquid is trademarked as Ice B Gone Magic. This combination process results in what we call "Ice B Gone Magic Treated Salt."
"Rock Salt on Steroids" Ice B'Gone Magic Treated Salt features and benefits:
* Ice B'Gone Magic Treated Salt is economically superior. Because it works better and lasts longer, less Ice B'Gone Magic Treated Salt is required to displace an equal amount of ice or snow than with any other ice-melt – at any price.
* Rock salt applications are reduced by 30% to 50%
* Works faster and lasts longer at much lower temperatures than ordinary rock salt.
*
Ice B'Gone Magic Treated Salt has a working temperature of -35°F
* Because of its residual effect, snow and ice will not bond to the pavement. Black ice is virtually eliminated. Imagine "Pam" in a frying pan.
* 90% less corrosive.
* Ice B'Gone Magic Treated Salt will reduce damage steel doors, thresholds, equipment, carpets, flooring or concrete.
* Safe for people to handle.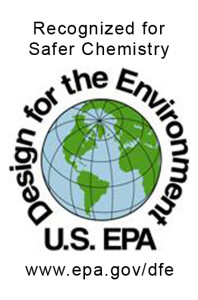 * Ice B'Gone Magic Treated Salt is environmentally friendly, releasing far less chlorides into the environment than common deicers.
Cost Savings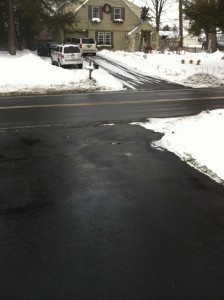 The use of Ice B'Gone Magic Treated Salt in place of other deicers will offer you a host of direct and indirect benefits. All of these benefits will save you time, aggravation and Money!!!
* Reduced deicer product requirement: A substantial reduction of the volume of material required for de-icing applications. Twice as much ordinary rock salt is required to produce the same effects. Three times (or more) as much sand/salt (80/20) mix is required to equal Ice B'Gone Magic Treated Salt. Ice B'Gone Magic Treated Salt is twice as effective as Rock Salt. Cost savings is approx. 30 – 50% when used correctly. T&M contracts save money on material.
* Improve Manpower Efficiency: Manpower efficiency is automatic when the deicer works well. Laborers work less because they are moving less product and the deicer is also burning off snow at a faster rate than common deicers, which creates less work. Expect to increase efficiency by 20 – 40%. Your salter covers twice the area with Ice B'Gone Magic Treated Salt, which means fewer return trips, less travel time, less fuel usage. Saves you $$. Flat rate contracts have better margins. Up to 2″ of snow burns off; flat rate account benefits are obvious!
* Reduced downtime for refilling: Crews stay out longer; finish faster, stay ahead of the curve better. Site cleanup is vastly improved. Expect to reduce down time by as much as 35-50%.
*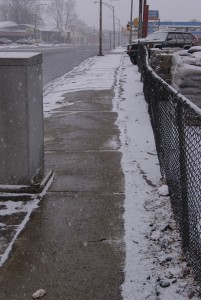 Reduced Wear and Tear on Equipment: Equipment that normally breaks down and requires constant up keep is easier to maintain. Expect to reduce equipment failure by 20-40% on average. Expect long-term savings.
* Reduced Legal Liability from slip and falls: Complimented by good professional practices like spot salting and good monitoring, expect your Insurance liability to decrease significantly.
* Reduced damage to Hardscaping: When used as directed, Ice B'Gone Magic Treated Salt is so easy on hardscaping you'll swear you have reduced damage to concrete, pavers and other hardscape by as much as 75-90%.
* Reduce damage to Landscaping: Magic Deicers are environmentally friendly, when used correctly; damage to vegetation is reduced from 70-100%.
Need Bulk Ice B' Gone Magic? Available at the following locations:
Albany; Colonie; Troy; Clifton Park;  Saratoga; Schenectady; Glens Falls
Brennan Landscaping: 518-461-9958
          Johnstown: R.C. Landscaping 518-365-0349
Bulk White Salt or Road Salt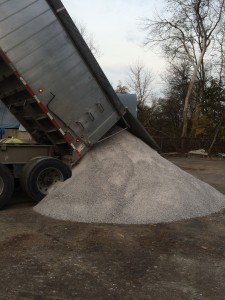 Picked up by the yard or delivered by the ton. We can deliver 22-38 ton loads.
Used as a road salt, rock salt is effective as a highway road salt for melting ice and melting snow on roads, highways, bridges, parking lots. It will not chemically attack concrete, but may be harmful to vegetation. Rock salt will not perform as a deicer and will not melt ice at temperatures below 18 F.
We also sell a Sand/IBGMagicTreatedSalt/Liquid Mixture by the yard.